Alpha 100 / T5, GPS Dog Tracking System Features:
Advanced Garmin tracking optimized for small dog breeds
- Track up to 20 dogs or other hunters at a distance of up to 14.5 km (T5) or 6.5 km (T 5 mini)
- T 5 mini-dog tracking collars are 30% smaller and 25% lighter than standard T5 dog tracking collars
- Better control with the use of geofences radius alarm, audio and vibration alerts to the dog via T 5- / T 5 mini
- Improved security with remote activated LED T 5- / T 5 mini or call other hunters using emergency
- Intuitive usability with a bright 76 mm colour touch screen that can be operated with gloves
Alpha 100 is an invaluable tool for hunting, which helps you to get the optimum performance from your working dogs. The handheld device adds features that provide more control over the dog. Alpha 100 is user friendly and allows you to track dogs with a range of up to 14.5 kilometres and deliver their exact position as often as every 2.5 seconds. With the Alpha 100 you can also track your hunting companions and send predefined messages on their Alpha 100th
With multiple handhelds Alpha 100 and T 5- / T5 mini devices you can find exact positions for up to 20 dogs or other hunters on the large colour touchscreen that can be operated with gloves.
Tracking class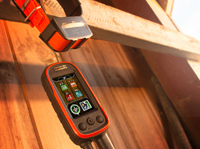 You can monitor each dog's speed, distance and the direction it is moving in. You can also receive messages about the current status of the dog, for example. the dog "stands". A single Alpha 100 can track up to 20 dogs or other hunters with a distance of up to 14.5 km (T5) or 6.5 km (T 5 mini) by receiving signals from multiple Alpha 100 and T 5- / T 5 mini-units (optional).With refresh rates of up to 2.5 seconds you can with Alpha 100 to keep a close eye on your dog. In T 5 / T 5 mini provides the top-mounted GPS / GLONASS antenna you fast and reliable satellite reception and very accurate tracking even in demanding environments. You always know your surroundings and if you want more details, you get the free one-year subscription to BirdsEye satellite images
1
a very realistic representation of the terrain, including roads, water, forests and more.
T 5 mini – optimized for small dog breeds
T 5 mini is designed to fit smaller breeds such. dachshund, beagle and terrier with a neck circumference of 240 to 355 mm and a weight of approximately 7-15 kg. The purpose of the design of the T 5 mini is to improve mobility and performance for dog by reducing the size of the collar about 30%, and reduce the weight by about 25% to 198 g in relation to the standard collar T5. In order to provide a perfect fit in use for demanding search is the width of the collar also been reduced to 19 mm. T 5 mini has a battery life of 16-30 hours.
Better Control
Alpha 100 helps you get the best possible control during a hunt. Stay in control, even when your dog is out of sight. With the help of geofence radius and alarm, you can check the dog's movements, and get notified when a dog leaves or enters a specified area. By using Alpha 100 you can even "talk" to your dog through the vibration and acoustic alarms on T 5 / T 5 Mini. That way you can remotely well-trained dogs.
To achieve the best use of battery life, T5 / T 5 mini you can change the refresh rate of your Alpha handset and make quick adjustments to suit changing hunting conditions. Using the Alpha 100 in Base Station mode with Base Camp (Garmin's free planning software) you can even easily check the position of dogs and other hunters from the larger screen of a tablet or laptop. You can also start and stop a VIRB-action camera that is mounted on the dog, with Alpha 100 via T 5 / T 5 mini.
Improved security
Configuring the geofence during the preparation of the hunt can help you to ensure that dogs do not come close to dangerous areas such as roads or steep cliffs. With geofence can create no-go areas and set alarms that beep when the dog comes near. If your dog comes close to roads, you can remotely activate the brightest LEDs on the T 5 / T 5 mini canine unit that improves the visibility of the dog. T 5 / T 5 mini can also be set to rescue mode, then the radio automatically switches to a lower refresh rate if the battery life drops below 25% – that way you are sure to have another 12 hours to find the dog who has been away . In an emergency, you can send an emergency call to all connected Alpha 100 units where you specify your location, giving others in your group the opportunity to find you.
Plan your next hunting
Get a grip on your next hunting adventure with BaseCamp , Garmin's free planning software that allows you to view and organize maps, waypoints, routes and tracks. BaseCamp displays topographic map data, including elevation and height profiles in 2D or 3D on the computer screen. The program can also transfer an almost unlimited number of satellite images to your device when combined with a subscription to BirdsEye satellite images.
Robust and durable
Garmin is known for robust design that is optimized for outdoor use, and Alpha 100 is an excellent example of this quality. Alpha 100 has a bright 76 mm colour touch screen, which can also be operated with gloves on, with excellent readability under all lighting conditions, and the robust housing has impermeability class IPX7
2
, so it can withstand accidental immersion in water.
T 5 / T 5 mini is even more durable, and the materials are designed to fit the rigorous demands of hunting dogs collar meetings. T 5 / T 5 has impermeability class ATM 10
2
and equipped with an extremely durable VHF antenna of steel wire for reliable operation even in dense tree cover.
1 T 5 and T 5 mini is compatible with Astro® 320 OR Alpha ™ 100. T 5 and T 5 mini can be configured to operate with one of the hand-held devices, but they can not be traced while both Astro 320 and Alpha 100.
2 See garmin.com/waterrating for more information.