GPSMAP® 1020xs Worldwide Basemap
Part Number: 010-01183-01
Recommended Retail Price: R 35 499.00

GPSMAP® 1020xs Worldwide Basemap Features:
10" Keyed Chartplotter/Sonar Combo for Cruising, Sailing or Fishing
- Keyed chartplotter/sonar combo with 10" color SVGA display
- Preloaded worldwide basemap
- Built-in Garmin HD-ID™ and supports CHIRP and DownVü™ scanning sonar with CHIRP technology
- High-sensitivity internal 10 Hz GPS/GLONASS receiver
- Supports all Garmin marine radar
The GPSMAP 1020xs keyed chartplotter/sonar combo has a 10" color SVGA display and comes preloaded with a worldwide basemap. HD-ID, CHIRP and DownVü with CHIRP sonar technology are built-in, allowing you the flexibility to choose from several optional transducers.
NMEA 2000® Support
This combo allows you to add more capabilities to your boat. It provides NMEA 2000 support so you can see valuable information on your screen for Garmin autopilot, engine data and more.
Networking
The GPSMAP 1020xs offers select networking capabilities that allow you to share features with other compatible GPSMAP units, such as radar, GCV 10 DownVü and SideVü scanning sonar, supplemental maps, and user data, including waypoints, routes and tracks. User data entered into one chartplotter can be automatically synced with other chartplotters in a network.
Special Sailing Features
Supported sailing features include laylines, enhanced wind rose, heading and course-over-ground lines, true wind data fields and tide/current/time slider.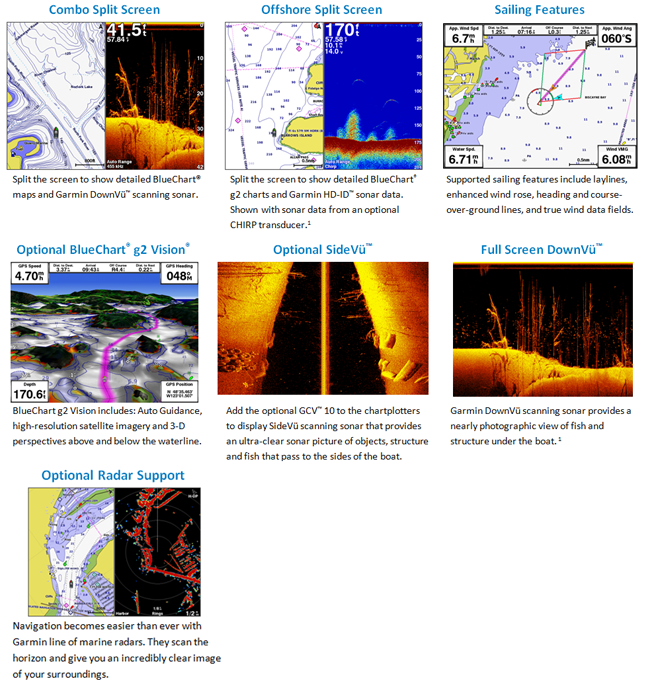 GCV™ 10 BLACK BOX SONAR
Add both SideVü and DownVü with CHIRP scanning sonar to the GPSMAP 800/1000 series to display an ultra-clear sonar picture of structure and fish that pass below and to the sides of the boat.
Compatible with gWind Transducers
The gWind transducer features twin-fin technology with three-bladed propeller for more accurate wind data.
View and Control Your Device From an iPhone® or iPad®
Garmin Helm allows you to view and control your compatible Garmin chartplotter from an iPhone or iPad — while providing enhanced situational awareness for the mariner. Easily switch between portrait and landscape mode to accommodate mounting preferences. Using your Apple digital mobile device, you can even record a movie of your chartplotter screen to share with friends and family. Download from the App Store™ today.
Product Comparison
1 Feature supported on xs versions with software version 3.0 or higher.
2 With software version 3.0 or higher.
What's in the Box:

- GPSMAP 1020xs with worldwide basemap
- Power/data cable
- Bail mount
- Flush mount
- Protective cover
- Documentation
Accessories for the GPSMAP® 1020xs Worldwide Basemap



GCV 10


Part No: 010-01156-00





Triducer,P66,8-pin,600W,Transom Mount,200/50kHz


Part No: 010-10192-21





Xdcr,P319,8-pin,600W,Plastic Thru-Hull,200/50kHz


Part No: 010-10194-21





Transducer,P19,8-pin,Tilted Plastic Thru-Hull,12,200/77kHz


Part No: 010-10218-21





Suction Cup Transducer Adapter


Part No: 010-10253-00





Transducer, 8-pin,Transom/Trolling Mount,200/50kHz


Part No: 010-10272-10





Speed sensor, 8-pin, Plastic, Transom mount


Part No: 010-10279-03





Xdcr,P79,8-pin,600W,Adjustable In-Hull,200/50kHz


Part No: 010-10327-20





Xdcr,M260,8-pin,1kW,In-Hull,200/50kHz


Part No: 010-10641-20





Xdcr,B60,8-pin,600W,Tilted Brnz Thru-Hull,20Deg,200/50kH


Part No: 010-10982-20





Xdcr,B60,8-pin,600W,Tilted Brnz Thru-Hull,12 Deg ,200/50


Part No: 010-10982-21





8-pin Female to wire block adapter


Part No: 010-11613-00





Transducer extension cable, 8-pin 3m // 10ft


Part No: 010-11617-00





Transducer extension cable, 8-pin 6m // 20ft


Part No: 010-11617-01





Xdcr,B150M,8-pin,CHIRP, 300W,Bronze,Thru-Hull,0de


Part No: 010-11927-20





Xdcr,B150M,8-pin,CHIRP,300W,Bronze,Thru-Hull,12deg


Part No: 010-11927-21





Xdcr,B150M,8-pin,CHIRP, 300W,Bronze,Thru-Hull,20deg


Part No: 010-11927-22





Xdcr,TM150M,8-pin, CHIRP, 300W,Transom Mount


Part No: 010-11928-20





All-in-one HD-ID and DownVü Transducer (8-pin)


Part No: 010-12087-01





Transom Mount


Part No: 010-12105-00





Trolling Motor Mount


Part No: 010-12105-10





Step Mount


Part No: 010-12106-00





Jack Plate Mount


Part No: 010-12106-10





Protective Cover


Part No: 010-12123-00





Trim Piece Snap Cover


Part No: 010-12125-00





Bail Mount


Part No: 010-12127-00





Flush Mount Kit


Part No: 010-12129-00





SD Card Door


Part No: 010-12133-00





Power Cable (8-pin)


Part No: 010-12152-00



---
---