Advanced Navigation with Smart Features
- Bright 5.0-inch GPS navigator with dual-orientation, pinch-to-zoom display
- Detailed maps of Southern Africa with free lifetime¹ map updates and lifetime traffic²
-
Garmin Traffic live via Smartphone Link
straight on your DriveSmart device
- Bluetooth® hands-free calling³ and voice-activated navigation
- Driver alerts for increased awareness, including upcoming sharp curves, school zones,
  speed zone changes and more
- Customisable smartphone notifications
4
let you display calls, texts and other app alerts
  on your navigation screen
Helpful Driver Alerts for Your Daily Commute
Garmin DriveSmart 50LMT GPS navigator provides driver alerts to encourage safer driving and increase situational awareness. Warnings include alerts for sharp curves, speed changes, railway crossings, animal crossings and more. Additionally, Garmin DriveSmart 50LMT notifies you when driving the wrong way on a one-way street and sends warnings for nearby school zones. Receive alerts for nearby red light and safetey cameras
5
, and be prepared for traffic with upcoming traffic
6
alerts. For longer drives, a fatigue warning
7
suggests break times and potential rest areas after hours of driving. The Up Ahead feature lets you easily see places up ahead and milestones along your route like borders, without leaving the map view.

Talk to Garmin DriveSmart
Garmin DriveSmart offers you the option of convenient voice-activated navigation. Control Garmin DriveSmart 50LMT with your voice, while your hands remain safely on the wheel.
Extensive Smart Features
Sync a Bluetooth-enabled device, such as your smartphone, to Garmin DriveSmart 50LMT for hands-free calling, and receive smart notifications on your Garmin DriveSmart 50LMT display. Receive calls, text messages and calendar reminders without ever removing your hands from the steering wheel to reach for your phone. Stay focused on your drive ahead while staying connected with customisable smart notifications that conveniently appear right on your navigation display.
For real-time information such as weather and traffic conditions, download
Smartphone Link
8
mobile app, which connects your Garmin DriveSmart 50LMT GPS navigator with your
compatible smartphone
.
Navigate Complex Junctions with Ease
Lane Guidance with voice prompts prepares you to drive through an exit or junction with confidence. As you approach, an animated model uses brightly coloured arrows to indicate the proper lane needed for your route. Bird's Eye junction view offers a detailed view of junctions, looking down as if from overhead. And, photoReal Junction View realistically displays junctions along your route, including the surrounding landscape.

Our Best Traffic Solutions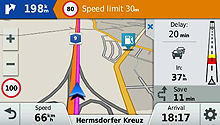 With
Garmin LIVE Traffic via Smartphone Link
you get improved Traffic coverage. There's now no excuse to get caught up in congestion – whether it's road works, an accident, rush hour traffic or serious hazards like wrong way drivers. With a 1 minute refresh rate, you'll know where and how long delays are, and be offered an alternative route if available – so you'll always feel relaxed and in control. Just pair your compatible Garmin navigator and your phone via Bluetooth
8
. (Data subscription might be required). Beside Garmin LIVE Traffic, get additionally free lifetime Traffic avoidance out-of the-box via RDS-TMC. It works over the traditional analogue FM radio to inform you of delays and alternative routes.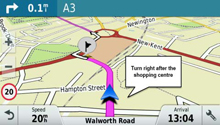 Guidance Using Recognisable Landmarks
Garmin DriveSmart 50LMT redefines "spoken turn-by-turn directions" with Garmin Real Directions™, easy-to-understand driving directions that guide like a friend, using recognisable landmarks, buildings and traffic lights (e.g., "Turn right after the red building" or "Turn left after the McDonalds"). It's preloaded with millions more new and popular places, thanks to Foursquare®.
Easier to Search, Quicker to Find
Garmin DriveSmart 50LMT has a search field that makes it easy to find addresses and millions of POIs. Simply enter a category (like "pizza"), an entire address or a proper name ("Starbucks"), and Garmin DriveSmart 50LMT quickly returns your results. In case of a misspelling, Garmin DriveSmart 50LMT provides multiple search results that sound similar to what you've entered.
Add a Camera to Your Drive
For a complete navigation solution,
Garmin DriveSmart 50LMT pairs with the BC™ 30 Wireless Backup Camera (sold separately; professional installation recommended). Once connected, you can easily see vehicles, pedestrians and other obstacles right on the Garmin DriveSmart display, as you move in reverse.
One-stop Device Management
Use
Garmin Express
™ to keep
your Garmin DriveSmart 50LMT up to date. Garmin Express makes it easy to update maps and software, transfer favourites to and from devices and install free custom vehicles and voices.
The quality of map data can make all the difference between finding your destination and getting lost. High-quality HERE map data enables your Garmin device to provide you with the information you need, when you need it most, reducing the frustrations of driving by avoiding delays and cutting down the time you spend in the car.
ÂąLifetime Maps Terms & Conditions
²Lifetime Traffic Terms & Conditions
ÂłRequires Bluetooth-enabled smartphone (sold separately). See Garmin.com/ble
4To receive smart notifications on your navigator, you must download the free Smartphone Link app. User's data plan charges, if any, will apply. Requires Bluetooth-enabled smartphone (sold separately)
5Red light and speed camera warnings are not available in all regions
6Requires users to be driving faster than 90 km/h while approaching slow or stopped traffic.
7The fatigue warning activates after long periods of consecutive driving without any long stops along the route.
8User's data plan charges, if any, will apply. Subscription may be required.

*Improved coverage beyond TMC locations compared to standard traffic service thanks to improved Location Referencing technology and TPEG. TPEG is the next generation traffic protocol, the new traffic standard and has the highest specifications for the transmission of advanced worldwide traffic information.

The Bluetooth® word mark is owned by the Bluetooth SIG, Inc. Foursquare® and the Foursquare® logos are registered trademarks of Foursquare Labs, Inc.