tactix® Bravo Features:
True Performance Meets Tactical Functionality
- 1.2-inch high-resolution, sunlight-readable Garmin Chroma Display™ in colour with high-strength domed
  sapphire lens
- Dual mode backlight to support regular use and operation with night vision goggles
- Stainless steel EXO™ antenna with bezel coating of black diamond-like carbon (DLC), knurled for
  increased abrasion resistance, anti-reflectivity and rugged finish
- Stealth all-black, rugged and tough design inspired by the requirements of tactical gear intended for
  use in the field
- High-sensitivity GPS and GLONASS satellite reception
- Dedicated tactical activity profile with special tactical data field setup with dual grid coordinates
  and preloaded applications like Jumpmaster and waypoint projection.
tactix® Bravo GPS sport watch for tactical training and outdoor navigation combines specialised tactical functionality with fitness training and smart features in an all-black, rugged and tough design that is built for the tactical environment and the dual-mode display guarantees great readability under regular conditions or can be switched to support operation with night vision goggles.
Serious Style That Stands Up to the Roughest Conditions
The appearance of tactix Bravo is all kept unobtrusive with non-reflective DLC coated black metal parts and curved lens to avoid reflection. It comes with two tough, interchangeable 3-ring nylon straps, including black and olive drab. The watch features a protective stainless steel EXO™ antenna with bezel coating of black diamond-like carbon (DLC), knurled for increased abrasion resistance, anti-reflectivity and rugged finish, and a ultra-strong glass fiber reinforced housing for extra durability. A sunlight-readable, high-resolution colour Chroma display with LED backlight backlight shows your data clearly in any light. User-activated "night vision mode" reduces backlight settings to a level that doesn´t interfere with the operation of night vision goggles. tactix Bravo watch is
water-rated to 100 meters
and has a battery life of up to 50 hours in UltraTrac™ battery saver mode, 20 hours in GPS mode and up to 3 weeks in smartwatch mode (all depending on settings).
Built-in Tactical Features
Tactical features include a dedicated tactical activity profile, Jumpmaster activity, projected waypoints and dual-format position format GPS Coordinate Data Page that supports MGRS, Degrees Minutes Seconds and more.
Navigate Your Way
tactix Bravo provides comprehensive navigation and tracking functionalities to guide you on and off the beaten path using GPS plus ABC (altimeter, barometer and compass). TracBack® feature navigates you back to your starting point the same way you came. Its built-in sensors provide information on heading, elevation and weather changes. It records a GPS track log, creating a "bread crumb trail" as you move. It also allows you to mark locations, such as, targets, drop zones, RV´s, ERV´s or check points. With tactix Bravo, you can create and navigate to a waypoint or follow a course as well.
tactix Bravo is equipped with both ANT+® wireless connectivity and Bluetooth®3 and has smart capabilities to wirelessly share locations and routes.
More than just ABC sensors
tactix Bravo is equipped with a barometric altimeter and an electronic 3-axis compass. The device auto-calibrates these sensors using its GPS receiver to provide the most accurate information possible. The built-in altimeter provides elevation data to accurately monitor ascent and descent, while the barometer can be used to predict weather changes by showing short-term trends in air pressure. The 3-axis electronic compass provides accurate bearing under all condition to keep tactical awareness without moving out of position. For accurate temperature reading from the watch, pair the tactix Bravo with our external tempe temperature sensor.
The Proof of Your Potential
tactix Bravo watch is packed with additional training features to tell you about your form and fitness. The VO2 max estimator crunches data, including your running speed, beats per minute and heart rate variability to estimate the maximum volume of oxygen you can consume per minute. Track changes to see your fitness gains and to compare with your peers. Other fitness metrics include recovery advisor with a recovery timer and recovery check, plus a race predictor, which estimates your ideal finish time based on your current VO2 max number.
Assure you are Ready
Once running gets serious tactix Bravo with optional HRM-Run monitor tracks all the advanced metrics that are needed to better understand and improve: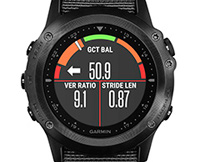 Advanced Running Dynamics analyse your running:
Vertical oscillation and ratio - the degree of ´bounce´ in your running motion
  and the benefit ration to stride length
Ground contact time and balance - shows how much time, in the running
  motion, your foot is on the ground rather than in flight
  and lets you check your running symmetry
Cadence - number of steps per minute
Stride length - determines a responsive current pace

Physiological metrics measures your heart to provide:
Stress score - tactix Bravo measures your heart rate variability while standing still, for 3 minutes, to provide you with an estimated stress level. The scale of this is 1 to 100, low scores indicate lower stress levels
Performance condition - After running for 6-20 minutes, tactix Bravo compares your real-time condition to your average fitness levels
Lactate threshold - Through analysis of your pace and heart rate, tactix Bravo estimates the point where your muscles start to rapidly fatigue
Custom Apps and Watch Faces
Personalise tactix Bravo watch with free downloads from our Connect IQ™ store. You can customise your watch face, add data fields and get apps and widgets that provide information at a glance.
Stay Connected
Smart notifications
3
let you receive emails, texts and alerts right on your watch, even if you´re on the trail. tactix Bravo receives the wireless signal from a compatible smartphone4 and lets you know you have a message by displaying the text on its own screen whenever you´re ready to read it.
Other connected features include automatic upload to Garmin Connect online fitness community, live tracking and social media sharing through our free Garmin Connect and Garmin Connect™ Mobile applications. Remotely control both the music from your phone and your VIRB® XE action camera. Find My Phone and Find My Watch capabilities included. Activity tracking4 counts daily steps, calories burned and stairs climbed; sleep tracking monitors your sleep patterns for additional health insights.
1Heart rate monitors and HRM-Run, sold separately.
2Requires HRM-Run monitor; included in some bundles, also sold separately.
3Phone must be Bluetooth® Smart. See Garmin.com/BLE for compatibility.
4Activity tracking accuracy

Device wear and care

The Bluetooth word mark is owned by the Bluetooth SIG, Inc.